The Really Red Apartments is the apartment building where Pinky and her family live. The apartment building is in Great Big City, on a street with other apartment buildings.
Infomation
The Really Red Apartments were built a long time ago, most likely before Grandma Dinky Doo (Pinky's Grandmother) was born. In recent times, Pinky's family moved in when Pinky was born.
It is called the "Really Red" Apartments, because, of course, it's really red.
It is unknown in the real world that Nicholas Biscuit, Pinky's best friend, lives in the apartments. Daphne Toliette, Pinky's other best friend, lives in the Ooh La La Towers (next door to the Really Red Apartments), although, the Ooh La La Towers may only exist in the made up stories.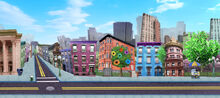 Apartment Statistics
Apartments
Residents
Trivia
It is four stories long.
There is a tree, with flowers growing on it, in front of the building.
The building is, of course, feature in both real life and in the made up stories.